Main content starts here, tab to start navigating
Menus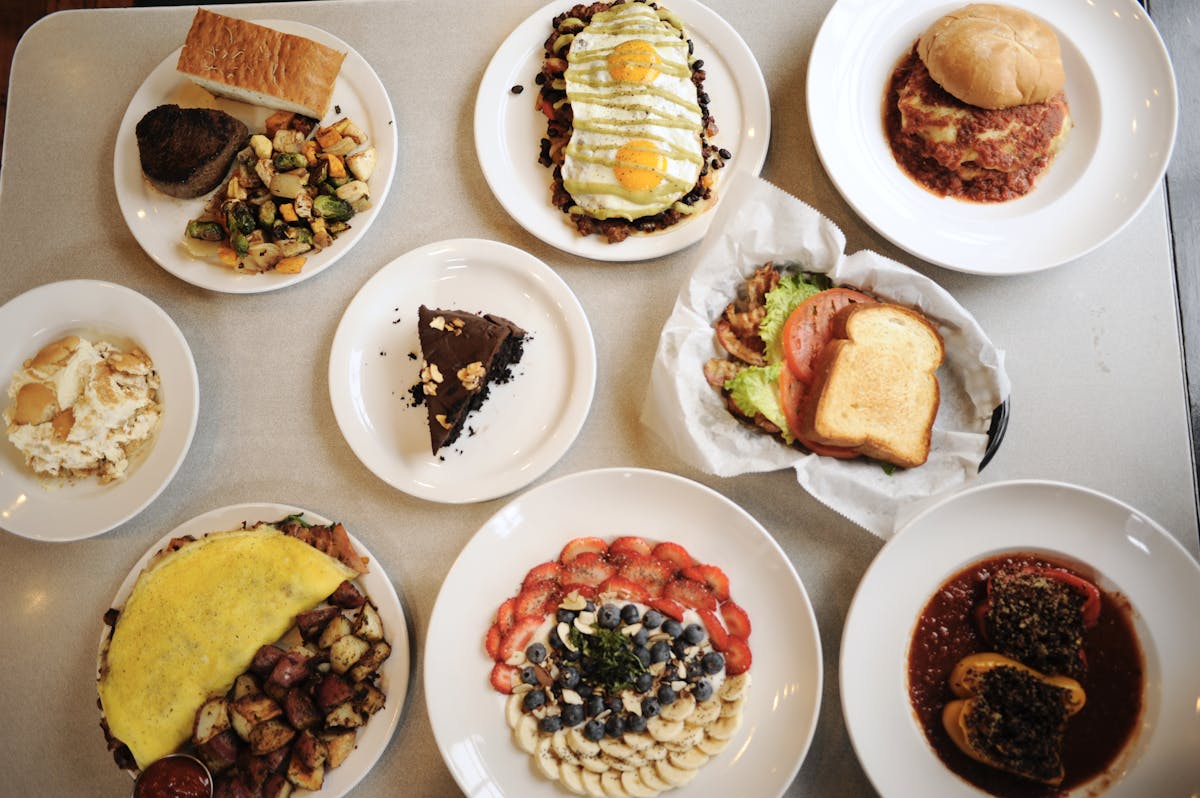 Breakfast Staples
Pancake

Two traditional buttermilk pancakes with breakfast meat and maple syrup, butter, and/or jelly on the side.

$12

Add chocolate chips, blueberries, bananas, strawberries / Each $2

gluten free, vegan

Waffle

Belgian style with maple syrup, butter, and/or jelly on the side and breakfast meat.

$12

Add chocolate chips, blueberries, bananas, strawberries / Each $2

gluten free, vegan

Ciabatta French Toast

Three slices of Ciabatta soaked in house batter, served with breakfast meat and maple syrup with butter on the side.

$14

Add chocolate chips, blueberries, bananas, strawberries / Each $2

gluten free

Open Faced Sandwich

Two slices of Brioche toast topped with prosciutto, Provolone, tomato, arugula, and a sunny side-up Latta Farm egg.

$16

gluten free

Grata Hash

House home fries, mushrooms, onions, and peppers, Italian sausage patty, a Parmesan Latta Farm egg and marinara sauce.

$16

gluten free

Breakfast Sandwich

One latta farm egg and bacon, turkey bacon, country sausage, or turkey sausage. Cheddar, provolone, mozzarella, pepper jack, or swiss. Served on your choice of sourdough, wheat, brioche, rye swirl, or a house biscuit. Served with a side of home fries.

$9

Substitute home fries with a fruit cup for $3

gluten free
Signature Dishes
Pumpkin Pancakes

Two house batter pumpkin pancakes and breakfast meat, maple syrup, butter, and/or jelly on the side.

$14

Grata Garbage Bowl

House home fries, black beans, melted Pepper Jack and Cheddar, chorizo sausage, bacon, onions, peppers, and two Latta Farm eggs smothered house Avocado Verde. Sub mushrooms for meat to make it vegetarian.

$16

vegetarian

Boozy Ciabatta French Toast

Three slices of Ciabatta soaked in house bourbon/Krupnikas infused batter and served with breakfast meat, maple syrup, and butter on the side.

$16

Add chocolate chips, blueberries, bananas, or strawberries on top / Each $2

gluten free, vegetarian

Chicken and Waffle Grata Style

Buttermilk and ranch marinated chicken thigh pan fried and piled on our signature Grata Waffle, maple syrup or house-made jalapeno maple syrup on the side.

$16

gluten free

Huevos Rancheros

Two corn tortillas topped with two sunny-side-up Latta Farm eggs, black beans Pepper Jack, sauteed peppers and onions, chorizo sausage, and our house Avocado Verde sauce.

$16

gluten free, vegetarian

Tofu Scramble

Firm tofu, mushrooms, spinach, bell peppers, onions, carrots, and broccoli with house Avocado Verde sauce.

$16

gluten free, vegan
Platters
The Grata Platter

Two Latta Farm eggs, breakfast meat, home fries, and choice of bread.

$12

Substitute a pancake or seasonal fruit / Each $2

gluten free

Pancakes or Waffle Platter

Two traditional pancakes or one Belgian style waffle, two Latta Farm eggs and a breakfast meat, maple syrup, butter, and/or jelly on the side.

$14

Add chocolate chips, blueberries, bananas, strawberries / Each $2

Make them Pumpkin $2

gluten free, vegan

Ciabatta French Toast Platter

Three slices of Ciabatta, two Latta Farm eggs, and a breakfast meat.

$16

Add blueberries, chocolate chips, bananas, or strawberries / Each $2

Make it boozy $2

gluten free
Omelets & Scrambles
Omelets/Scrambles are served with home fries, Ciabatta toast, Wheat toast, Brioche toast, Rye Swirl toast, or a house biscuit. GF
The Caprese

Mozzarella, fresh tomato, fresh basil, and a balsamic glaze.

$16

The Meats

Country sausage, bacon, ham, and Provolone.

$16

The Veggies

Mushrooms, onions, spinach, peppers, kale, and Swiss.

$16

The Western

Onions, peppers, chorizo sausage, ham, and Pepper Jack.

$16

The Works

Onions, peppers, mushrooms, spinach, chorizo sausage, ham, bacon, Pepper Jack and Cheddar.

$16

Build Your Own Omelet or Scrambles

Choose up to 4 ingredients: Bacon, Turkey Bacon, Country Sausage, Turkey Sausage, Italian Sausage, Chorizo Sausage, Ham, Tofu, Onions, Peppers, Mushrooms, Tomato, Spinach, Kale, Carrots, Zucchini, Squash, Cheddar, Provolone, Swiss, Pepper Jack, or Mozzarella.

$16
Breakfast a la Carte
Meats

Bacon, Turkey Bacon, Ham. country Sausage Patties, Turkey Sausage Patties, Italian Sausage Patties, Seared Tofu.

$5

Breads

Ciabatta, Brioche, What, Rye Swirl, House-Made Biscuit, Gluten-Free Toast.

$2

Seasonal Fresh Fruit

$5

Home Fries

$4

A Latta Farm Egg Your Way

$2
Grata Bowls
The Table Vanilla

Greek Yogurt, chia seeds, sliced almonds, strawberries, bananas, blueberries, and fresh basil. All proceeds donated to TABLE.

$15

The Veggie

Farro, mushrooms, spinach, squash, zucchini, broccoli, peppers, carrots, and tomatoes tossed in pesto sauce.

$15

Add Chicken $4

The Vegan

Quinoa, tofu, spinach, tomato, mushrooms, peppers, broccoli, and kale tossed in house lemon basil vinaigrette.

$15

gluten free

The Arts Center

Farro or quinoa, tomatoes, kale, carrots, onions, squash, chicken, and balsamic drizzle. All proceeds donated to The Carrboro Arts Center.

$16

gluten free
Smash Burgers
Served with gluten-free tater tots, House salad, Caesar salad, fruit cup, or a cup of soup. Make it a double smash for $2 or a triple smash for $4
Turkey Sausage Burger

House Turkey Sausage patty topped with Provolone, garlicky spinach, tomato, and pesto on a Kaiser.

$14

The Messy Meatball Burger

House meatball smashed on the griddle and topped with house marinara, Provolone, Mozzarella, and Parmesan on a Kaiser.

$14

The Pimento Bacon Cheeseburger

Local grass-fed ground beef topped with pimento cheese bacon jam, and pickles on a Kaiser.

$14

The Caprese Burger

Local grass-fed ground beef topped with fresh Mozzarella, tomatoes, basil pesto, and balsamic glaze on a Kaiser.

$14

The Swiss Cheese BBQ Bacon Burger

Local grass-fed ground beef topped with Swiss, bacon, sauteed onions, and BBQ sauce on a Kaiser.

$14

The Grata Burger

Local grass-fed ground beef topped with Cheddar, bacon, lettuce, tomato, and pickles on a Kaiser.

$14
Chicken
All are served with gluten-free tater tots, House salad, Caesar Salad, fruit cup, or a cup of soup
Chicken Tenders

Three hand-breaded chicken tenders air fried to perfection.

$12

BBQ Bacon Jam Chicken Sandwich

Buttermilk ranch marinated boneless chicken thigh pan-fried and topped with BBQ sauce, bacon jam, Pepper Jack, onions, and lettuce on a Kaiser.

$15

Chicken Club Sandwich

Lemon-Herb marinated chicken breast topped with Swiss, bacon, lettuce, tomato, and mayo on a Kaiser.

$15

Grilled Chicken Sandwich

Lemon-Herb marinated chicken breast topped with pesto, lettuce, tomato, and onion on a Kaiser.

$15

Fried Chicken Sandwich

Buttermilk ranch marinated boneless chicken thigh pan-fried and topped with house herb citrus mayo, lettuce, and pickles on a Kaiser.

$15
Entrees
Turkey Meatloaf

House-made turkey meatloaf cooked to perfection and smothered in our house mushroom marsala gravy. Served with your choice of two of the following: garlic smashed potatoes, cauliflower-parsnip puree, home fries, Italian green beans, or sauteed seasonal veggies.

$16

Chicken over Biscuits

A twist on the classic chicken pot pie. Chicken, carrots, onions, celery, peas, and mushrooms cooked in a savory gravy over our house biscuits.

$16

Shepherd's Pie

A Grata twist on a classic. A savory mix of local grass-fed beef, carrots, peas, and onions topped with our house garlic smashed potatoes and melted cheddar cheese.

$16

Chicken Breast

Tender chicken breast served with your choice of two of the following: garlic smashed potatoes, cauliflower-parsnip puree, home fries, Italian Green Beans, or sauteed seasonal veggies.

$16

Add Mushroom Marsala Gravy for $2

Fried Chicken Thighs

Buttermilk marinated chicken thighs fried to perfection and served with your choice of two of the following: garlic smashed potatoes, cauliflower-parsnip puree, home fries, Italian green beans, or sauteed seasonal veggies.

$16

Add Mushroom Marsala Gravy for $2
Grilled Cheese
All served with tater tots, House salad, Caesar salad, fruit cup, or a cup of soup on Rye Swirl, Brioche, or Wheat Bread
The Caprese

Mozzarella cheese, fresh tomatoes, basil, pesto, and balsamic glaze.

$10

he Southern

Pimento cheese and bacon jam.

$10

The Cheezy

Provolone, Swiss, and Pepper Jack.

$10

The Veggie

Mozzarella, Provolone, Spinach, mushrooms, tomato, and onions.

$10
Signature Sandwiches
All served with your choice of tater tots, House salad, Caesar salad, fruit cup, or a cup of soup.
The Grata Club

A diner classic! Turkey, ham, bacon, Swiss, lettuce, tomato, and pesto on Whole Wheat, Rye Swirl, or Sourdough.

$14

The Turkey Reuben

Turkey, Swiss, sauerkraut, pickles, and Thousand Island dressing on Rye Swirl.

$14

The BLT

Bacon, lettuce, tomato, and pesto on Brioche.

$14

Add a Latta Farm Egg Your Way $2

The Shroom

Portabella mushroom cap, Swiss, sauteed onions, lettuce, and tomato on a Kaiser.

$12

The Grata Dog

100% beef deli-style jumbo hot dog fried and topped with your choice of sauerkraut onions, mustard, and/or ketchup on an Italian sub roll.

$8
Salads & Soup
The Caesar

Romaine lettuce, shaved Parmesan, house-made ciabatta croutons, tossed in creamy Caesar dressing.

$10

Add Chicken $4

The Italian Field Greens

Mixed field greens, tomato, mushrooms, carrots, cucumbers, squash, and house Ciabatta crouton tossed in house Lemon Basil Vinaigrette dressing.

$12

Add Chicken $4

Soup of the Day – Check Specials Board Please

Cup $5

Bowl $9

Sides

House or Caesar Salad $5

Tater Tots $4

Seasonal Fresh Fruit $5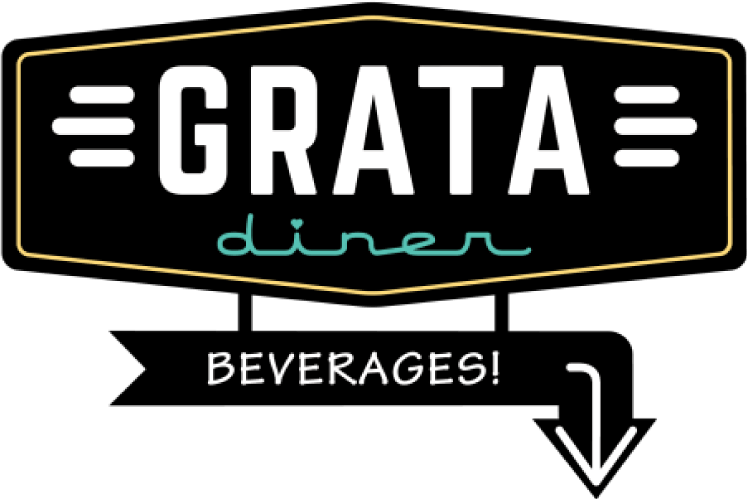 Grey Squirrel Coffee

(free refills)

$5

Cold Brew

(Free refills)

$6

Milk

(Free refills)

$2

Iced or Hot Tea

(Free refills)

$3

Orange, Apple, or Cranberry Juice

(Free refills)

$3

Coke, Diet Coke, or Sprite (16oz bottle)

$3

New Creation Root 42 Organic Root Beer

$4
Kombucha
From Dalai Sofia in Charleston, SC
This Lil Peach

Will make you feel like a cool breeze in the middle of a hot Carrboro Summer. This relaxing Elixir of peach, herbs, and rose water will cool the system, moisturize your skin, and balance your PH.

$5

Blue Magic

Blueberries from the Appalachian Mountains bring the magic to this ultimate summer refresher. Tart lemon and candy-like lemon verbena find balance with Earthy Spirulina. Your body will be feeling balanced as well thanks to the detoxifying, anti-inflammatory powers of Blue Magic.

$5

Bucci Mane

The Mane Man features tart, refreshing Mango balanced with warm spices nutmeg, clove, and inflammation-fighting turmeric. A little citrusy, a little earthy, and packed with good-for-you vitamins and minerals.

$5

Jala Berry

For those that like a little heat with their sweet. Jala Berry isn't just a beverage...It's an experience for every taste bud. Start with a little tart, then move into a smooth strawberry–melon middle. Finish off with a balanced burn courtesy of jalapenos. Our Gal Holy Basil provides an adaptogenic boost -great for fighting inflammation, regulating cortisol, and detoxifying the body. That's hot!

$5

Salty Ginger

This Kombucha is a citrus, ginger, and salty flavor profile that rivals a tart ginger beer or an exotic ginger ale.

$5
Mimosas
Winter

Cranberry – Pomegranate, crisp and fresh.

$8

Ruby Red Grapefruit

A tart and bright spin on the traditional.

$8

Traditional

Old school awesome with a dash of OJ.

$8
Our Wine Offerings
All of Grata's wines are sourced from biodynamic, organic, ethical and sustainable vineyards. Our wines have no additives, just grapes and fruit. They are fresh, clean and delicious.

Glass $8.00
Bottle$25.00
Le Ballon Blanc (France)

On the nose, expect white stone fruit and some herbs. Similar aromas carry through to the palate with an added backbone of minerality and mouth-watering acidity

Le Ballon Rouge (France)

The nose is expressive with lots of bright red fruit. The palate is attractive, mouth-filling and fresh with lots of ripe fruit flavor

Le Ballon Rose (France)

On the nose, expect white strawberry, ruby grapefruit, and Provençal herbs. On the palate, all of these aromas carry through with added mouth-watering acidity.

Domaine De Montredon Picpoul De Pinet (France)

Aromas of green apple, citrus, pear, and pear-drop. A crisp and refreshing palate with pear, green apple, and a salty hint to the mineral-laden finish from clay and limestone terroir.

Luc Cholot Chardonnay (France)

Good texture with an initial taste of uncommonly ripe, tasty fruit. Soft and nicely balanced on the palate, it finishes on a smooth wash of ripe citrus fruit.

Luc Cholot Sauvignon Blanc (France)

Citrus hints with blackcurrant, gooseberries and a hint of Muscat. Lively and Fresh.

Luc Cholot Pinot Noir (France)

Intense medium ruby color. Bouquet of blackcurrant, licorice and cherries. Rich and vinous palate.

Luc Cholot Cabernet (France)

Deep, dark but brilliant garnet. Hint of vanilla overlying ripe, fruity aromas; the background bouquet is more complex offering flares of leather and cedar. Medium-bodied with finely balanced tannins.
Beers & Ciders
We are excited and proud to offer beer from Steel String Brewery in downtown Carrboro
Big Mon

West Coast IPA, 6.3% abv. // 12 oz. can

$5

Stowin' Away the Time

Czech Pilsner, 5% abv. // 16 oz. can

$7

Bounty Across the County

Blackberry & Vanilla Witbier, 6% abv. // 12 oz. can

$5

Secular Non-denominational Holiday Ale

Dark Belgian Strong Ale 7% abv. // 16 oz. can

$7

No Quarter

Coffee Stout 6.7% abv. // 12 oz. can

$5

Potter's Petite Cider

Sessionable cider, 4.2% abv. // 12 oz. can

$6